Mortgage market suffers 'extended chill' says Equifax
6/17/2019 | SHARE
Posted in Mortgages and Real Estate by Sheru Asnani | Back to Main Blog Page
The Canadian mortgage market continues to suffer from the impact of lower home sales in major markets as the stress tests weaken homebuyers' abilities.
A new report from Equifax Canada shows "considerable slowing" over the past year with the value of new mortgage in Q1 2019 down 12% year-over-year.
That means the market has reduced for six consecutive quarters.
British Columbia is the market most impacted by the B-20 guidelines' stress test while Quebec is the only province not feeling the weight of the tighter lending rules.
The average new mortgage in Q1 2019 was $268,480, down 3.2% from cent from last year with regulations having the greatest impact in the expensive Vancouver and Toronto markets.
Vancouver reported a 6.2% decline in the average new mortgage value to $418,280; while Toronto was down 1% to $401,830.
By comparison, more affordable markets have been less impacted. The average new mortgage was up 3.6% in Montreal and 2.5% in Ottawa. Similarly, Hamilton (2.4%) and London (5.2%) have reported continued growth in mortgage amounts.
Total mortgage outstandings rose 4% to $1.278 trillion while non-mortgage debt was up 4.9% compared to 2018, as longer terms on auto and bank loans have consumers paying down their balances slower.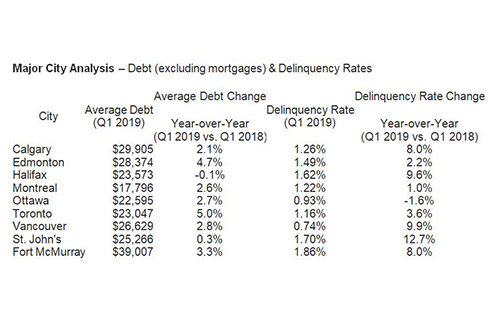 Delinquencies rising
There was an uptick in the 90-day delinquency rate across all consumer credit products in Q1 2019.
Although the rate for mortgages did increase by 4% this rate remains very low at 0.18%.
the 90-day delinquency rate increased 3.5% year-over-year in the first quarter of 2019 to an overall rate of 1.2%. But among seniors, the rate jumped 9.4% year-over-year.
Overall, Newfoundland posted the largest increase (10%) followed by New Brunswick (7.8%) and Manitoba (6.1%). BC (5.4%) and Ontario (3.6%) reported the first significant increase in their delinquency in at least 5 years.
"We continue to see signs of increasing strain for Canadian borrowers. The utilization of credit cards has been trending higher and gaining momentum," added Johnston. "With more consumers growing their average debt, we expect to see further increases in delinquencies in the coming months."
Credit usage higher
The report shows that Canadians are still highly reliant on borrowing with the average debt per Canadian consumer (including mortgages) rising 2.6% year-over-year to $71,300 in the first quarter of 2019.
There was a seasonal peak of 33.9% for those with increased credit balances compared to the previous year.
Total consumer debt including mortgages increased to $1.907 trillion in Q1, compared to $1.823 trillion in Q1 2018 (+4.3%).
"Consumers were opening fewer new credit products in early 2019, but they certainly weren't curtailing the use of their existing credit," said Bill Johnston, Vice President of Data & Analytics at Equifax Canada. "Loans are taking longer to pay down and credit card use is on the rise. The headline numbers for non-mortgage debt had been driven by population growth for the past 18 months, but it was increased usage that drove the rise in credit during the first quarter of this year."
Fixed Rate Mortgages, Home Buyers, Mortgage Consumers, Mortgage Delinquency, Mortgage Industry, Mortgage Market, Mortgage Rates Canada, Mortgage Refinancing, Mortgage Renewals, Mortgage Trends, Mortgages & Real Estate, NonMortgage Debt, Reverse Mortgages, Second Mortgages, Stress Test, Uninsured Mortgages, Variable Rate Mortgages
Thinking of buying or selling a property, or have a question regarding the real estate market? Fill out the form below and I'll get back to you promptly.